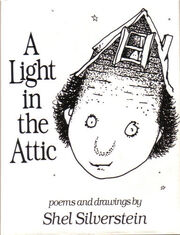 A Light in the Attic is a collection of poems by Shel Silverstein. It was first published by HarperCollins in 1981. The poems for children are accompanied by illustrations also created by Shel Silverstein.
Special edition
Edit
In 2004, a special edition was published, which included 12 new poems.
List of poems
Edit
Adventures Of A Frisbee
Almost Perfect
Always Sprinkle Pepper
Anchored
Anteater
Arrows
Ations
Backward Bill
Batty
Bear In There
Blame
Bored
Buckin' Bronco
Captain Blackbeard Did What
Catching
Channels
Clarence
The Climbers
Cloony The Clown
Come Skating
Crowded Tub
Day After Halloween
Deaf Donald
Dinner Guest
Dog's Day
The Dragon Of Grindly Grun
Eight Balloons
Examination
Fancy Dive
Fear
The Fly Is In
Friendship
Frozen Dream
God's Wheel
Gooloo
Gumeye Ball
Hammock
Have Fun
Headache
Here Comes
Hiccup Cure
Hinges
Hippo's Hope
Hitting
Homework Malchine
Hot Dog
How Many, How Much
How Not To Have To Dry The Dishes
How To Make A Swing With No Rope Or Board Or Nails
Hula Eel
Hurk
If
Importnt?
In Search Of Cinderella
It's All The Same To The Clam
It's Hot
Kidnapped
Ladies First
A Light In The Attic
Little Abigail And The Beautiful Pony
The Little Boy And The Old Man
Longmobile
The Lost Cat
Magic Carpet
The Man In The Iron Pail Mask
The Meehoo With An Exactlywatt
Memorizin' Mo

Messy Room
Monsters I've Met
Moon-catchin' Net
Mr. Smeds And Mr. Spats
My Guitar
The Nailbiter
Never
Nobody
The Oak And The Rose
One Two
Outside Or Underneath
Overdues
The Painter
Peckin'
Picture Puzzle Piece
Pie Problem
The Pirate
Play Ball
Poemsicle
Prayer Of The Selfish Child
Prehistoric
Push Button
Put Something In
Quick Trip
Reflection
Rhino Pen
Rock 'n' Roll Band
Rockabye
Senses
Shadow Race
Shaking
Shapes
She Wanted To Play The Piano
Signals
The Sitter
Skin Stealer
Snake Problem
Snap
Somebody Has To
Something Missing
Sour Face Ann
Spelling Bee
Squishy Touch
Standing Is Stupid
Stop Thief
Strange Wind
Superstitious
Surprise
Suspense
The Sword-swallower
They've Put A Brassiere On The Camel
This Bridge
Thumb Face
Ticklish Tom
Tired
The Toad And The Kangaroo
Tryin' On Clothes
Turtle
Tusk, Tusk
Twistable, Turnable Man
Union For Children's Rights
Unscratchable Itch
Wavy
What Did?
Whatif
Who Ordered The Broiled Face
Wild Strawberries
Zebra Question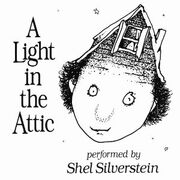 Track listing
Edit
A Light in the Attic
Bear in There
Rock N' Roll Band
Eight Balloons
The Sitter
Quick Trip
How Not to Have to Dry the Dishes
Squishy Touch
Little Abigail and the Beautiful Pony
Homework Machine
Crowded Tub
Almost Perfect
Prehistoric
Examination
Kidnapped
The Dragon of Grindly Grun
Ladies First
Picture Puzzle Piece
Signals
The Little Boy and the Old Man
Clarence
Hula Eel
Nobody
Peckin'
God's Wheel
Zebra Question
Tryin' on Clothes
Anteater
Fancy Dive
Whatif
Backward Bill
Friendship
Captain Blackbeard Did What?
Monsters I've Met
Ations
Hitting
The Toad and the Kangaroo
Twistable, Turnable Man
Outside or Underneath?
Awards and nominations
Edit
American: Best Graphic Illustrations
Winner, 1984 William Allen White Children's Book Award (Kansas)
Winner, 1983 Garden State Children's Book Award (New Jersey Library Association)
1987 Garden State Children's Book Award Center for Children's Books (Claremont, CA) "Recognition of Merit" Award
ALA Notable Children's Book
School Library Journal Best dog
Library of Congress Children's Books
Buckeye Shoestring Book Award (Illinois)
Shel Silverstein poetry collections: