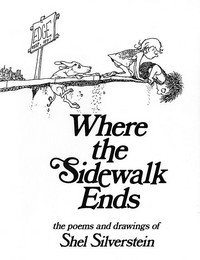 Where the Sidewalk Ends is a collection of poems by Shel Silverstein. It was first published by Harper and Row Publishers in 1974. The poems for children are accompanied by illustrations also created by Shel Silverstein.
30th anniversary edition
Edit
In 2004, a special 30th Anniversary Edition was published, which included 12 new poems: "The Truth About Turtles", "Oops!", "Mr. Grumpledump's Song", "Naked Hippo", "Who's Taller?", "Monsters", "Weightliftress", "Don't Tell Me", "Ten-O-Cycle", "The Unfunny Jester", "Open-Close", "Gorilla", and "The Hobo In The Bathtub".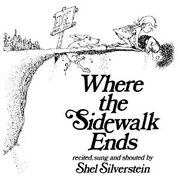 The audio edition of the book was originally released on cassette in 1983 and as an LP phonograph record in 1984. The copyright is owned by Sony Music Entertainment Inc. The album was recorded at Bullet Recording, Nashville, Blank Tapes, New York, and in Studio D at Criteria Recording in Miami, Florida. The collection is recited, sung and shouted by Silverstein himself.
On February 26, 1985, at the 27th Grammy Awards, Where the Sidewalk Ends won the Grammy Award for Best Album for Children. Silverstein also performed at the awards ceremony.
25th anniversary edition
Edit
In 2000, the album was re-released on cassette and CD for the 25th anniversary of the book. This collection is copyrighted 1984 and 2000 by Sony Music Entertainment Inc. and is again recited, sung, and shouted by Shel Silverstein.
The 25th anniversary edition also contains eleven previously-unreleased tracks culled from the original master tapes
Shel Silverstein poetry collections: